Placement and graduate opportunities
Placement and graduate opportunities
We offer two Graduate Pathways:
• Actuarial & Investment
• Pensions Management
Our Pensions Management and Actuarial and Investment teams offer a diverse range of stimulating and fast paced work.
Click here to view our current vacancies for placement opportunities. (Please note by clicking this link you will leave our website to go to another portal and we recommend you read the iCIMS privacy policy.)
We create an environment where you can drive your career to the next level – we believe in empowerment and expect our colleagues to thrive in an environment of personal responsibility and ownership. You'll get direct exposure to working with the directors of our business and the opportunity to really make your mark in a growing business.
Applicants are requested to submit an application form, CV and cover letter which clearly illustrates that their skills and experience are relevant to the post requirements.
Please ensure you clearly outline your academic qualifications.
We look forward to meeting you and explaining more about our group of businesses.
Find our more about our Graduate pathways on this page.
Graduate brochure
You can view and download our graduate brochure.
"I gained so much from my placement experience and it confirmed for me that the actuarial profession was where I saw my future" Rachel Graham, Placement Student, Graduate Recruit, Actuarial Technician
Message from Brian Spence
Spence is one of a group of companies providing pensions advice, trusteeship and management. From the recruitment of a graduate to the creation of a ground breaking new software system and set-up of two other businesses, we have seen many changes.
We are very proud of the culture that we have developed since our Group of businesses was founded in the year 2000. Our goal is to provide interesting, worthwhile and healthy careers for our people. We look after our staff first and foremost, but for a commercial purpose, which is to deliver great service, profitably. By focusing on our goal, we provide the best outcomes for pension scheme members, trustees and employers.
We provide knowledge and expertise to meet challenges, often in sensitive circumstances, trusted by employers, trustees, pension scheme members and regulators to carefully manage pension schemes over many years. Everything we do must be completed to the highest standard of quality and with unquestionable integrity. This demands close trust between us as colleagues, and trust between us and others.
Despite our transformation and growth over the years, we have retained the same philosophy of recruiting those willing to make a real contribution to the business at an early stage and encourage this to be taken into their continued career path, wherever it may take them.
We strive to provide interesting and worthwhile career opportunities for all members of staff and believe this emphasis sets us apart and ensures our staff engage and thrive in the work that they carry out.
What to expect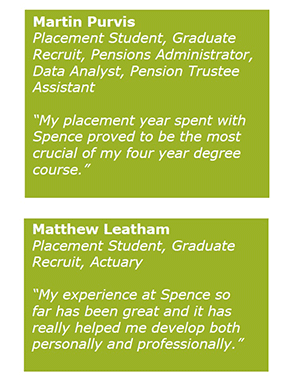 You will be involved in all aspects of the business from an early stage and our flat corporate structure means you will work alongside senior members of staff from the outset.
We promote a friendly and collaborative atmosphere at all levels of the business and placement and graduate students are integrated immediately as members of the team.
If your application is successful, no matter what area of the business you are assigned to, you will be expected to immerse yourself in our culture and take full advantage of the opportunity to work within a real industry setting with professionals by your side to teach and inspire you along the way. You will be offered an interesting and rewarding placement experience which will readily equip you for working life after graduation and as a graduate you will be offered an excellent opportunity to start a successful career.
An appointed mentor who will help you identify the best examination path for you. Flexible working practice to suit individuals' needs. A generous study leave package. A flexible benefits package, including core benefits of permanent health insurance, pension, life assurance with the option to avail of a wide range of flexible benefits.
We are excited about the future at Spence & Partners.Our Business is growing fast through new client wins and expansion in our current service offerings. Our use of our innovative integrated actuarial and administration pension scheme software platform, Mantle®, across our work is driving us to deliver integrated solutions to our clients. As a result, we believe we can offer something different to students looking to take the first steps in their actuarial and investment careers.
Spence & Partners is a professional firm of actuaries, pension consultants, data specialists and administrators who since 2000, has built a team of personnel with a breadth and depth of experience and expertise. We strive to understand the real world pressure on our clients in today's market and we work with those who appreciate our straight talking approach. We focus on innovation and technology to provide a more efficient and cost effective service but understand that a personal touch is needed to guide people through a complex landscape.
Graduate testimonials
Testimonials
We asked three of our graduates about their experience with us.
Find out about their experiences by clicking on their names below